The waiting is over and you can now experience the much anticipated Toy Story Land in Disney's Hollywood Studios! We went on July 6th to check out all the cool new stuff. They did an amazing job with all the little details of this Land!
The whole area makes you feel like you've shrunk down to the size of a toy in Andy's room when you experience Toy Story Land. The bathrooms are spelled out in Scrabble tiles, the fences are made from K'nex, and you can even spot a shoe imprint in the ground where Andy ran through!
The highlight of Toy Story Land of course was the new coaster, Slinky Dog Dash, which takes "toys" on a fun new ride on the back of Slinky Dog. I loved this ride, but also loved the detail in the queue. It portrays the story of Andy's thought process in creating this ride from a coaster gift he got and drew with crayon how he was going to engineer Slinky on to it! So cute!
Alien Swirling Saucers was the other new ride to experience in Toy Story Land. The music is fun and it is great for smaller riders who aren't quite tall enough yet for Slinky Dog Dash. And you definitely can't miss out on a visit to Andy's Lunch Box! S'mores French Toast anyone? (Major yum!)
The only downfall guests will experience for now is the sheer volume of people checking everything out. We arrived 20 minutes before Extra Magic Hours even started and we had a 25 minute wait for Slinky Dog Dash. By the time we got off Slinky Dog Dash, the line was up to 50 minutes. And this was around the start of EMH. So, go EARLY to experience Toy Story Land!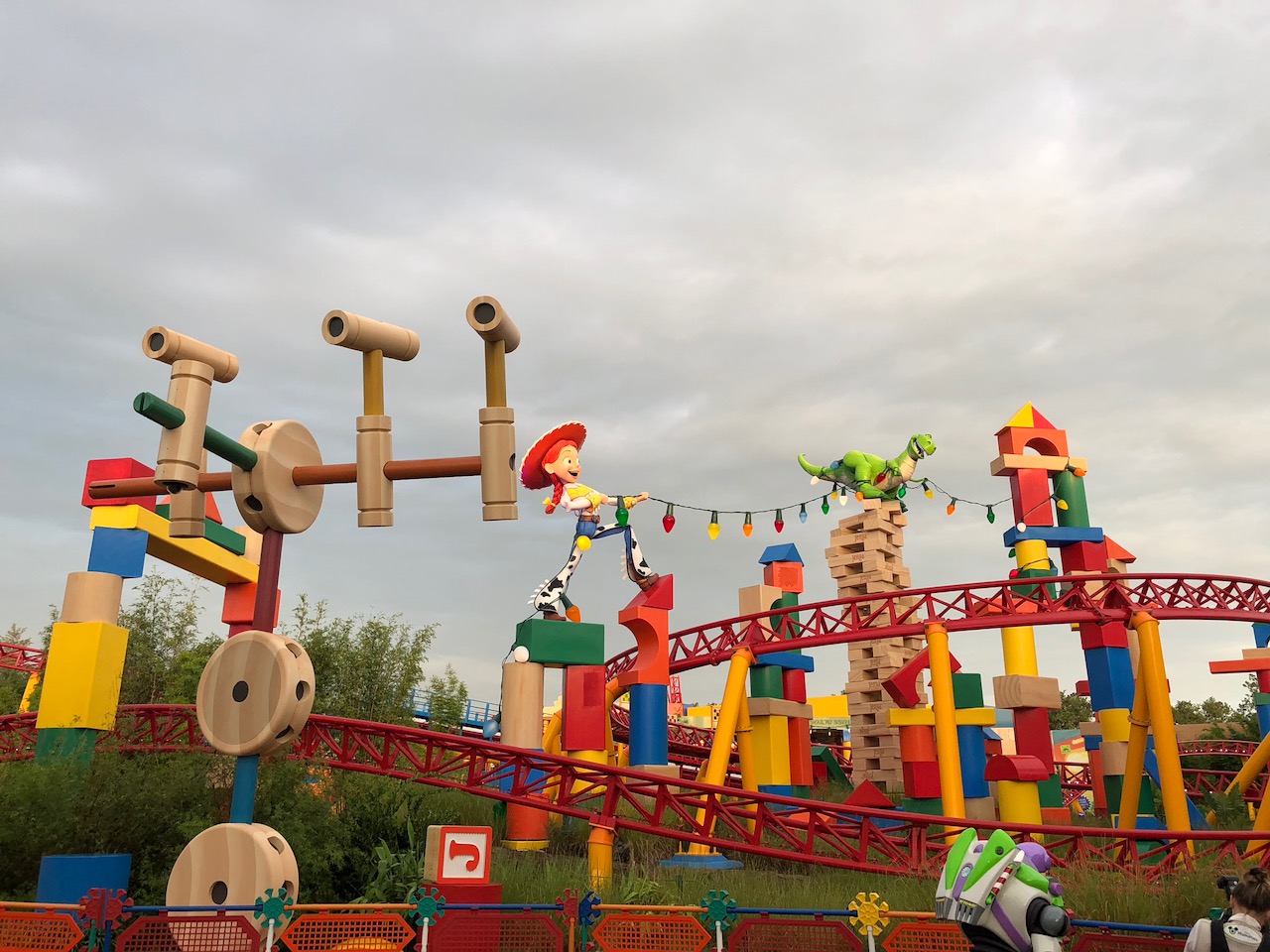 The new merchandise is adorable! They have cute hats, shirts, toys (pictured to the left is the light up Slinky Dog toy we got my son), pins, and even Slinky Dog "Mickey" Ears for guests to wear around the park. There is no shortage of fun as you experience Toy Story Land despite your short stature as a "toy"!
Take some time to wander around and take in all the details. Who knows, you may even run into some green army men!
Are you ready to experience Toy Story Land at Disney's Hollywood Studios in Walt Disney World Resort? I'd love to help you plan your next magical vacation and I'll take care of coordinating all your plans and FastPass+ reservations so you can just relax & enjoy! Contact me today for your free, no obligation vacation quote. To Infinity and Beyond! Shannon@spiritofadventuretravel.com